Yura Otonashi
Kanji

音無 由良

Rōmaji

Otonashi Yura

Nicknames

Sensei

Characteristics

Ethnicity

Japanese

Gender

Female

Age

12 (Debut)
13 (Chapter 78)
18 (Chapter 180)

Birthday

April 4

Zodiac

Aries

Hair Color

Grey Brown

Eye Color

Brown

Blood Type

A

Alice

Alice
Alice Type

Alice Academy

School

Alice Academy-Junior High
Senior High (Chapter 180)

Star Rank
Class

B Class (Former-Chapter 75)
A Class (Chapter 77)

Previous Schools

Personal Status

Status

Alive

Relative(s)

Boyfriend

Relationship

Dating

Media

Manga
Anime
Yura Otonashi (音無 由良 Otonashi Yura) is a student in Alice Academy. She was in the Elementary school's Class B, but graduated to middle school. Yura is in the Latent Ability class and is a double star student. Yura is voiced by Junko Ueda in the anime.
Story
Reo Arc
Mikan Sakura asked Yura to use her Divination Alice to check on her grandfather and did the dance with her. She tells Mikan that her grandfather is at the front gate, but being refused to get into the school.
Alice Festival Arc
Yuri attends the festival and is seen dating her middle school boyfriend.
Sports Festival Arc
Yura is set to graduate from elementary school and Class B wants to host a band show on her behalf. However there was a dispute over whether Mikan's or Sumire's friends would lead it. Yura predicted that the graduation would not go well, but was proven to be wrong as Vlass B reconciled and performed without issue.
Current Arc
Mikan is about to leave the Academy and have her memories erased after losing her Alice. Yura arrives with all of the students to bid farewell and plays the school's graduation song with a band, as Narumi says the day will be recognized as Mikan's graduation.
Alice
She has a
Divination Alice
that enables her to see the past, present, and future by doing a dance. It appears that her powers work best if the one wanting the divination dances with her.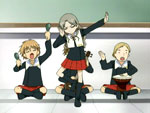 Trivia
Otonashi is the only character in the entire series that we see go through the first three of the four education levels at Alice Academy.