Nonoko Ogasawara
Kanji

小笠原 野乃子

Rōmaji

Ogasawara Nonoko

Characteristics

Ethnicity

Japanese

Gender

Female

Age

10 (Debut)
11 (Chapter 140)
15 (Chapter 180)

Height

152 cm (Age 11)

Weight

40 kg (Age 11)

Birthday

September 26

Zodiac

Libra

Hair Color

Blue-Black

Eye Color

Blue

Blood Type

A

Alice

Alice
Alice Type
Alice Stone Color

Pink

Alice Academy

School
Star Rank
Class

B Class
Technical Ability

Personal Status

Status

Alive

Media

Manga
Anime
Voice Actor

Ai Nonaka
Nonoko Ogasawara (小笠原 野乃子 Ogasawara Nonoko) is a student of the Elementary Division of Gakuen Alice, and is a Single Star student. Nonoko's family, unlike most side characters, is said about in her profile, saying that she is from a rich family. Nonoko is also a member of the Three Geeky Sisters, along with Hotaru Imai and Anna Umenomiya, and is in the Technical Class. She is voiced by Ai Nonaka in the anime.
Story
Dodgeball Game
She is one of the few students who do not make fun of Mikan Sakura or call her a No Star. She participated in the dodgeball game on Mikan's team willingly, not caring about the possibility of being a slave. Nonoko then gets injured when a someone controlled the ball to hit her fingers. This makes her unable to play the game.
Last Dance
When Mikan asked who Nonoko and Anna Umenomiya liked they both became very embarrassed, and didn't answer. The two then try to ask Misaki, their teacher, to dance with them at the same time, making it obvious that Misaki was the one who they liked.
Z Arc
After the incidents of the loss of Alices, Nonoko voices that she would be sad if she lost her Alice, because she feels it's a part of her and that she would miss everyone, since it is only now that everyone is getting along.
She is the many who greet the returning Mikan, Ruka, Natsume, and Tsubasa who have invaded Z.
High School Divison Arc
Nonoko is one of Mikan's friends that tried to distract Mikan and Natsume Hyūga's pursuers. She and everyone involved in helping the escapees are captured and put in a prison. She and everyone are later released following a deal between Shiki and the ESP in order to restore order in the academy.
Current Arc
Three months later, like everyone else, Nonoko is saddened when Mikan is separated from them and isolated by the ESP. They all send her books as their Christmas presents to her. Days later, she is among the dozens of students who take part in the battle against the ESP and Z, and is later teleported away for safety.
She gives Mikan her favorite memory of her before Mikan is expelled and her memories are removed.
Four years later, Nonoko and everyone else reunites with Mikan, and supports her decision to look for Hotaru.
Alice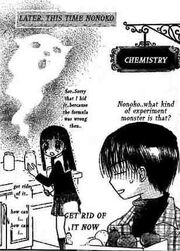 Nonoko has the Chemistry Alice, which gives her the ability to create strange medicines and potions.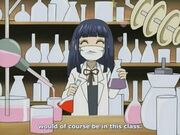 Gallery
Community content is available under
CC-BY-SA
unless otherwise noted.