Miruku
Rōmaji

Miruku

Nicknames

Miruku-onee-sama

Characteristics

Ethnicity

Japanese

Gender

Female

Age

16-18 (Debut)

Alice

Alice
Alice Type

Alice Academy

School
School Positions

OB (Chapter 180)

Class

Personal Status

Status

Alive

Media

Manga
Anime
Miruku is Anna Umenomiya's sempai and is a student in the High School section of Gakuen Alice. Anna thinks of her as a older sister.
Story
Miruku was the one who said that the flour Anna used was expired, and not to use expired flour or someone could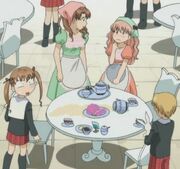 get sick. She then showed her the germie that was on the cake, saying that this might be the reason why Natsume Hyūga ruined the cake with tea. Miruku is later mentioned to be the one who told Anna about the legend of the last dance. She is seen with Anna with a solid chocolate cake that falls over, luckily Tsubasa was there to use use his Alice to stop it from falling.
Alice
She may have the Cooking Alice like Anna. She is a student of the Technical Ability class as is confirmed when she is seen working the cafe with Anna at the Alice Festival.
Community content is available under
CC-BY-SA
unless otherwise noted.