Akeshi
Kanji

キツネ目

Rōmaji

Kitsuneme

Nicknames

Kitsuneme (Fox Eyes)
Nekome (Cat Eyes)

Characteristics

Ethnicity

Japanese

Gender

Male

Age

10 (Debut)
17-18 )Chapter 180)

Height

148 cm (Age 11)

Weight

41 kg (Age 11)

Birthday

April 4

Zodiac

Aries

Hair Color

Blond (Manga)
Brown (Anime)

Blood Type

O

Alice

Alice
Alice Type

Alice Academy

School
Star Rank
Class

B Class
Latent Ability

Personal Status

Status

Alive

Media

Manga
Anime
Kitsuneme (キツネ目) is an Elementary Section student of Gakuen Alice. He is a side character and often seen with Kokoroyomi.
Story
Welcome to Gakuen Alice
He is first seen flying in the classroom and asking, "Who is she?" to Mikan Sakura.
Reo Arc
Kitsuneme helped out in Hotaru's plan to meet Reo along with Iinchou, Mikan, and Koko. He was given the Dog Mask invention by Hotaru, but like Iinchou and Koko, were captured by the teachers before meeting Reo.
Alice Festival
Kitsuneme was a participant at the Special Ability Class's RPG and manged to get passed the math board problem on the ceiling by using his Alice. At the Alice Festival, he gives Peter Pan flying rides at the Latent Ability section.
Christmas Ball Arc
He is part of the competition over the best late birthday gift for Natsume. He gives Natsume Hyūga a flying skateboard, though he doesn't win, his was not the worst present.
He is put on the Decorating Team for the Christmas Ball prepartions. He is seen using his Flying Alice to his advantage by decorating the tree.
Sports Festival
He was in the Sports Festival using his Alice to fly over the obstacle that was a lake.
Time Travel Arc
Kitsuneme distracted Mikan Sakura and Natsume's pursuers to allow them to escape to Hana Hime Den.
High School Divison Arc
He was captured by the Student Police, but this allowed Youichi Hijiri time to escape to Hana Hime Den. He is put into a prison along with the rest of those who helped with the escape. He is unconscious like Sumire and next to her, with Iinchou crying for him and Sumire to wake up.
Final Arc
Three months after the said event, he is also seen flying during the Christmas Party in chapter 143.
Alice
Kitsuneme has the Latent type Alice that enables him to fly in the air.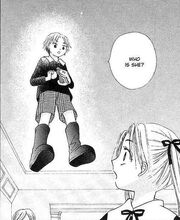 Trivia
He owns a dog named Pochi.
In the anime, his surname is Akeshi
Community content is available under
CC-BY-SA
unless otherwise noted.